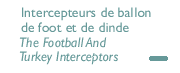 L'intercepteur de ballon de foot


The Soccer Ball Interceptor


L'intercepteur de dinde

/
The Turkey Interceptor

Vidéo-installation (piège, moniteur vidéo / interceptor, video monitor) _ 1998

Ces deux objets ont été conçus pour une fonction précise : intercepter respectivement un ballon de football et une dinde. Ils procèdent de la volonté et du désir de créer l'objet adéquat. Après ils ont été façonnés de manière à être en parfaite adéquation avec leur finalité. Ce temps passé à la réalisation a été relativement important et confère aux objets une valeur inhérente au facteur temps de travail et de savoir faire.
Ce sont des choses utiles, pensées sérieusement et réalisées avec application.
Effectivement, pour l'un, si une dinde vole vers la gueule du piège, elle sera réellement interceptée et retenue dans le filet. Pour l'autre, si un ballon de football heurte le filet, il sera effectivement canalisé dans le panier prévu à cet effet.
Le message vidéographique voudrait légitimer le processus de création, de la conception jusqu'à la mise en oeuvre de l'objet fini en démontrant sa capacité à remplir parfaitement sa fonction initiale.
Pourtant, rien ne va dans ce sens, ils n'interceptent qu'un bâton et une pierre. Le message vidéo de la dinde va jusqu'à nier la nullité de la démonstration. Au travers du traitement de ces images, c'est le sens de nos comportements qui est mis en exergue : donner du sens à des choses qui n'en ont pas, sans discernement, et surtout en dépit de la réalité profonde des choses.
La dinde apparaît donc comme un contrepoint à notre volonté et à nos désirs, le ballon comme la cristallisation de frustration et de violence propre à l'échec.

Ce travail a été réalisé en partenariat avec la société Brainstorm, ingénierie et développement informatique.


These two objects have been devised to fulfil a precise purpose: to intercept a soccer ball and a turkey respectively. They come from a will and a desire to create a suitable object. Then, they have been shaped in order to be in complete harmony with their function. The amount of time spent making them was relatively important and gives the objects an inherent value, in that a good deal of time and knowledge was required to make them.
They are useful, seriously thought out and carefully made.
Indeed, in the case of one of them, if a turkey flies towards the first trap, it will be effectively intercepted and stay in the net. As for the second trap, if a soccer ball hits the net, it will effectively be channelled into the basket provided.
The video graphic message aims to legitimise the process of creation, from conception to the implementation of the finished product, by demonstrating its ability to fulfil its initial function perfectly.
However, nothing works in the way intended, since they only intercept a stick and a stone. The video message of a turkey even denies the invalidity of the demonstration. Through the processing of its images, it is the meaning of our behaviour that is emphasised: giving meaning to things that are deprived of it, without proper judgement, and above all despite the deep reality of things.
The turkey therefore appears as a counterpoint to our will and desires, the soccer ball as the crystallisation a frustration and a violence which are particular to failure. (translation: Lindsay Onions)

This works was carried out in partnership whit the Brainstorm compagny, engineering
and computer development.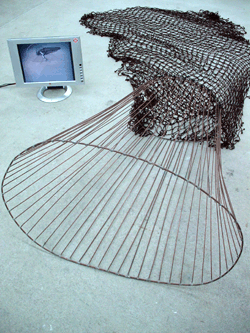 Vue de l'installation "le piège à dinde"
View of installation "Goose Trap"


_H264 (400 ko) : ici/here (400ko)

Détail de l'installation "l'intercepteur de ballon de foot"
Part of installation '"The Soccer Ball Interceptor"


_H264 : Voir la video / download video (1.7 Mo)