Monstres /
Monsters
Edition de dessins / Drawings' book
Sélection de dessins / Drawings' selection
Liste des participants
" Monstres" est un recueil de dessins collectés auprès d'une quarantaine de personnes. Chacune d'entre elles est invitée à réaliser des dessins explicites de rêves, de cauchemars ou de pulsions auxquelles elle a été confrontée sans savoir comment les gérer. Elles mettent donc en forme la honte, l'embarras ou la culpabilité qu'elles ont alors ressentie.
Ainsi ce recueil trace les limites de l'image de soi, en ce sens que la personne communique vers la société une vision d'elle-même, qu'habituellement elle garde pour elle.
Monsters is a book of drawings collected from about forty persons.
Each of them has been invited to realize explicit drawings of dreams, nightmares or pulsions to which he or she has been confrontated to, without knowing how to deal with.
Therefore, they gave a shape to the shame, confusion or guilt they once experienced.
That compedium traces the limits of self-awareness, in the sense that one communicates a vision of self towards the society - a vision usualy kept for oneself.
(translation : Bertrand Grimault)

Comment participer ?
How to participate?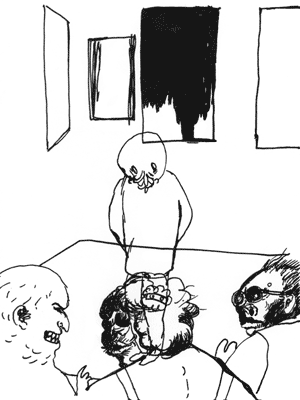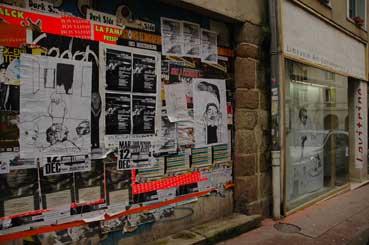 Vue de l'exposition Fest'hivers à la Vitrine,LAC&S, Limoges, janv 2007
Fest'hiver's exhibition at La Vitrine, LAC&S, Limoges, janv 2007.
Crédit photo : Marie Laure Moity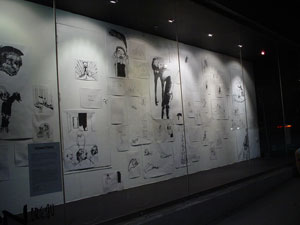 Vues de l'exposition Monsters à 24seven, Melbourne, Australie, oct.2005 Monsters' exhibition at 24seven, Melbourne, Australia, oct. 2005.